I will be donating 20% of proceeds of all sales to charity for just now. If you have a preferred charity let me know, otherwise I will donate the full cost of each piece to The British Red Cross
s.
I will ask you to pay me the postage and we can discuss which charity you would prefer the sales money to go to . Postage by Hermes pickup is £3.50 for up to 1 KG (soap dish) within the UK £4.65 or £6.59 (larger dish or several items)
Weight (kg)
Exc VAT
Inc VAT
Under 1kg
£2.88
£3.45
1 to 2kg
£3.88
£4.65
2 to 5kg
£5.49
£6.59
5 to 10kg
£6.33
£7.59
10 to 15kg
£7.98
£9.58
Signed for
67p
80p
Email me on glassbychristina@gmail.com
Upcoming Sales of my work
If you message me then I can arrange for you to view pieces and buy if you want in Newcastle upon Tyne or Whitfield, Northumberland.
How the pieces are made
I cut the glass by hand and arrange the layers before fusing in my kiln. Fusing usually takes several firings reaching temperatures of up to 800C and taking 12 – 24 hours before the kiln is re-opened. A flat piece is first fused then it's shape is added by 2nd and 3rd firings. Inclusions of copper oxide , copper leaf etc in between layers of glass are used for extra effect. It may then be slumped into a ceramic mould or over a stainless steel mould to take it's final form.
Heat proof fibre paper is also used to give more intricate shapes in a process called kiln carving.
The glass used is special art glass called bullseye glass.
My usual glass supplier is https://www.warm-glass.co.uk so if there is a particular colour you want you can check it out on their website and look under the menu Bullseye glass (3mm thick is the usual thickness)and let me know then I can order it in.
Technical issues such as speed of heating and annealing times ensure the glass does not crack or break during and after firing.
My training in glass fusing was undertaken at Lime Street Studios, Ouseburn, Newcastle upon Tyne, with Sue Woolhouse who taught me in group sessions www.suewoolhouse.co.uk
I am a member of the Contemporary Glass Society. CGS.org.uk
Most of the glass is safe to use with food. Although the glass can be used in the dishwasher it is not recommended and microwaving is not recommended as extreme and sudden differences of heat can cause cracking.
Prices of pieces vary from £3 for small Christmas decorations to £50 for large bowls and platters. The price depends on the complexity and the cost of glass which varies considerably.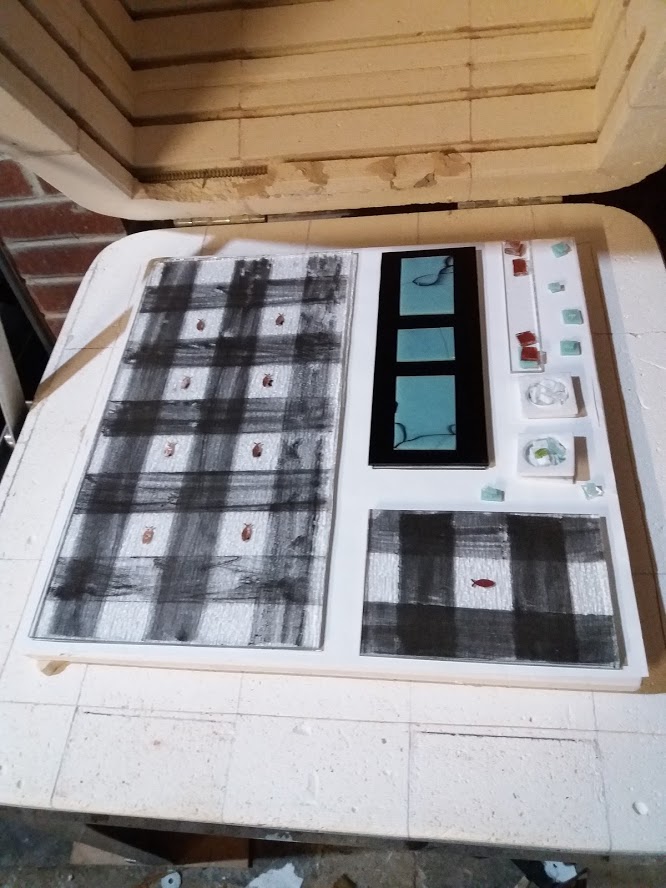 glass in my kiln about to be fired. The black copper oxide becomes a lovely bubbly blue -see below.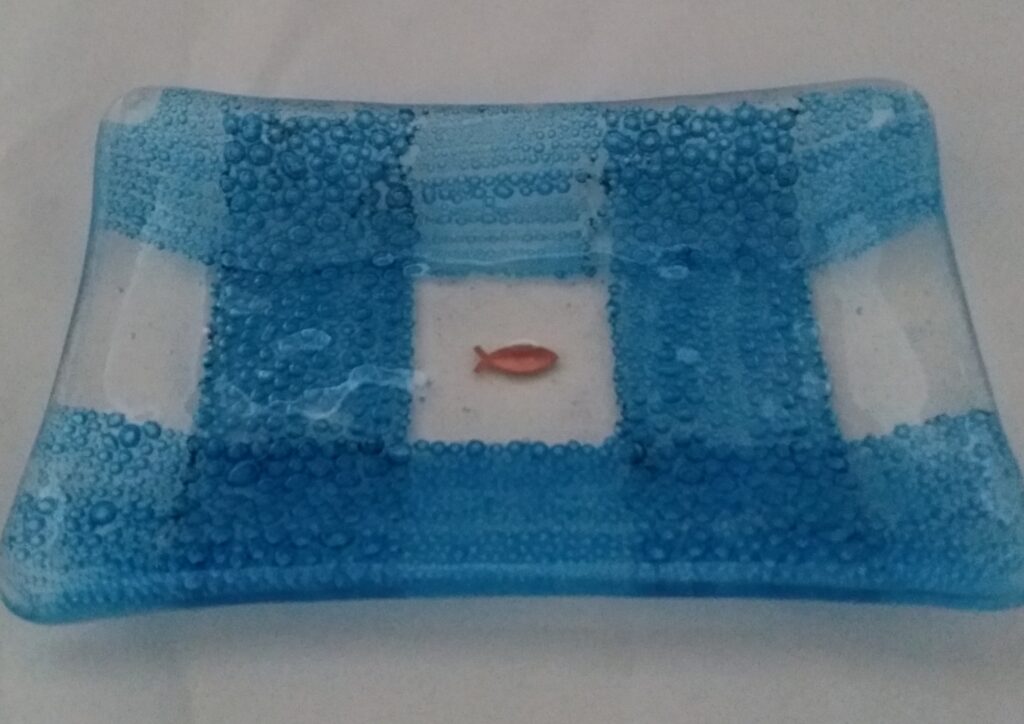 The black stripes become blue after firing. This piece has also been slumped to make a small (soap) dish 15cm x 10cm